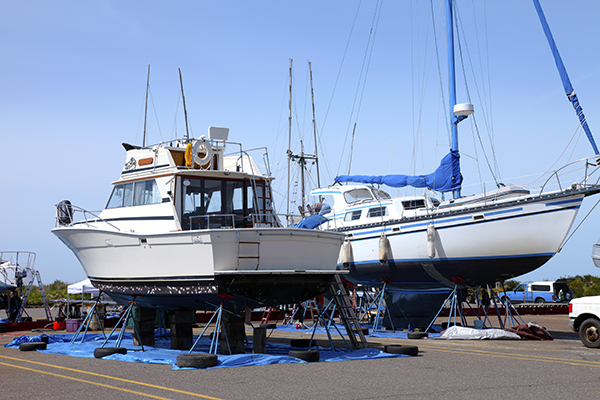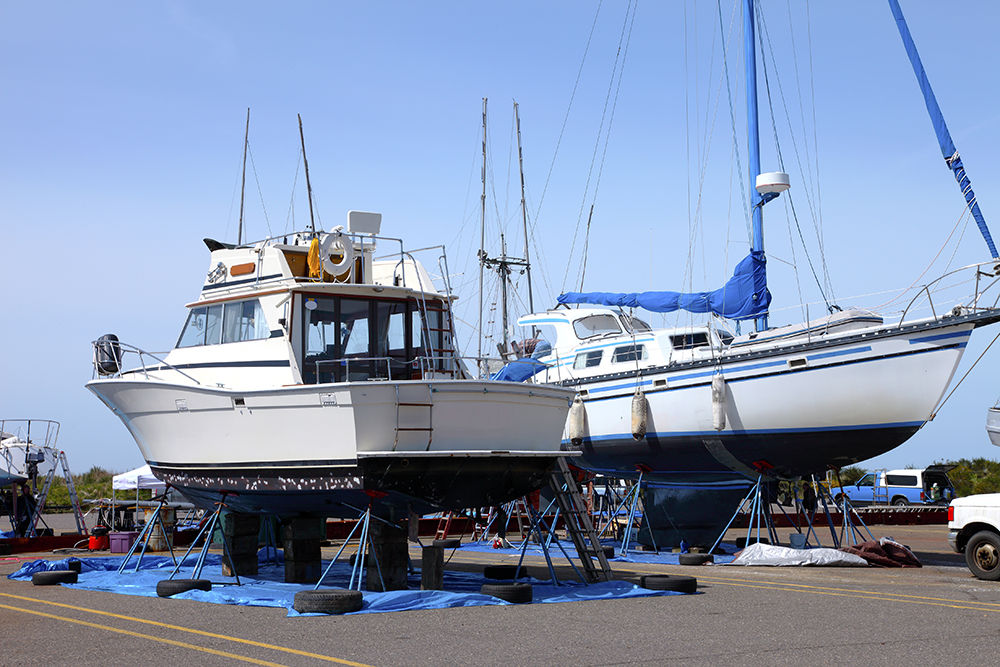 It's been a great summer of boating and now it is time to begin preparing your boat for winter. If your boat is hauled out for winter storage, here are 6 more ways to prepare your boat for winter storage from one of our insurance carriers that will help you ensure that your vessel will be ready for safe and reliable cruising again next year.
We will present this information in 5 parts, you can view part 1 here. Today's post will focus on tasks before the haulout, inside the boat. When the boat is afloat and tied to the dock, it's easier to get on and off than it will be when she's hauled out, so now is the time to do as much of the heavy lifting as possible.
1. Check for Leaks
After you've washed the boat, go inside and look for deck leaks. Try to look at as much of the hull-to-deck joint as you can see, and around all the windows, hatches, portlights, chainplates and any other hull and deck penetrations. Make notes of any leaks you find, keeping in mind that water might show up inside the boat in a different place than where it's getting in from the outside. Chasing leaks can involve quite a bit of detective work, but it's an important part of maintenance. Try to have any leaks repaired right away, especially if the boat will be stored outside for the winter.
2. Prepare your Gasoline Engines and Tanks
If your boat has gasoline engines, you'll want to run the fuel levels in the tanks down as much as possible before hauling out. Since most gasoline now contains a fair amount of ethanol (alcohol), the fuel will get "stale" fairly quickly. Left untreated, this will get worse as condensation forms in the tank and mixes with the alcohol, eventually causing "phase separation" and resulting in a watery alcohol mixture in the bottom of the tank. This can cause serious engine damage. In the spring, the remaining fuel in the tanks can be treated with fuel stabilizer, and when fresh fuel is added, it will mix and dilute the small amount of stale fuel that spent the winter in the tanks.
When the boat has been delivered to the haulout site, leave the engines running and turn off the fuel supply, and let the engines run at idle until they use up all the fuel and stop running. This will purge all the gas from the fuel system, reducing the possibility of varnish forming as gasoline evaporates, which is often a problem with gasoline engines equipped with carburetors. Another suggestion is "fogging" a gasoline engine to coat its internal parts and protect against corrosion. Fogging oil is available at most marine stores and at engine parts stores. Remove the flame arrestor before running the engine to use up the fuel. The engine will start to run "rough" and stumble just before it stops. When this happens, spray the fogging oil into the carburetor or throttle body until the engine stops. Read your engine's operating manual for more suggestions on protecting it during winter storage.
3. Prepare Your Diesel Engines and Tanks
Diesel fuel is more stable than gasoline with ethanol, but it still absorbs water, and water will do serious damage to injectors. It's a good idea to fill the tanks on a diesel-powered boat before hauling out. With full tanks, there's less internal air space and less tank surface to collect condensation. Add a dose of biocide to the tanks to prevent algae growth before you top them off. Running the engine out of fuel isn't necessary with a diesel engine, and it's difficult to purge the air out of some diesel engines to get them running in the spring.
4. Winterize Systems Where Water Could Cause Damage
If you have harsh winter climates where you store your boat, her systems will need to be winterized. You can do a lot of these chores while the boat is in the water. Close the seacocks (except for propulsion engine cooling water intakes), and drain the strainers. Depending on the boat's layout, it may be necessary to remove hoses from generator and air conditioning pump cooling water intakes, and perhaps remove pump covers, to drain all the water out. Pump out the toilet holding tank, rinse it, and pump it dry again. You may have to remove hoses from the toilet as well. The domestic water system should be drained, but in some cases it's not possible to drain all the water out of hoses in hidden spaces, so it may be necessary to add some non-toxic anti-freeze to the water system.
5. Protect the Batteries
If there's a separate set of house batteries, they can be removed for winter storage before the boat is delivered to the yard for haulout. The same applies to the generator starting battery, if there is one. The engine starting batteries can be removed at the yard's service dock, just prior to haulout. Batteries are heavy, so it's easier to get them ashore while the boat is afloat rather than trying to deal with them once she's on the hard. Storing the batteries at home will extend their life, since cold weather will cause them to self-discharge more rapidly, and once they've spent more than a few weeks in a discharged state, they can't be trusted. When you take the batteries home, store them on a dry surface in a location that's not subject to freezing temperatures, and plan to trickle-charge them for a day or two once a month through the winter. Don't forget to clean the terminals before returning them to the boat in the spring.
6. Clean Out, Clean Up
Remove as much gear from the boat as you can, including electronics, lifejackets, binoculars, clothing, cushions, fishing gear, and anything else that could be damaged by moisture and cold weather, or that may be attractive to thieves. Clean out galley cabinets and take home extra food, spices and condiments. Dishes, pots and pans, and glassware might benefit from a trip through the dishwasher at home. And here's a hint: the flame arrestors on gasoline engines need periodic cleaning. If they're a bit dirty, take them home and soak them in solvent or paint thinner, let them air dry, and then run them through the dishwasher on the bottom rack. They'll come out shiny and clean. You'll also want to cover the engine intakes with plastic bags when you take off the flame arrestors. With the lockers empty and the batteries ashore, give all the stowage and bilge spaces a good cleaning. Add a bit of baking soda and wash out the battery boxes to neutralize any spilled battery acid. Use lots of fresh water and a biodegradable cleaner that's safe to pump overboard, and then use a wet-dry vacuum to suck all the remaining water out of all the interior spaces. You'll appreciate getting aboard a clean, fresh-smelling boat next spring!
Our Marine Team knows boat insurance inside and out. You've put a lot of time, money and effort into your vessel, now let Wells Marine Insurance carefully protect your boat from perils. Visit us at wellsmarineins.com or stop by our Wrightsville Beach office.
5 COMMENTS