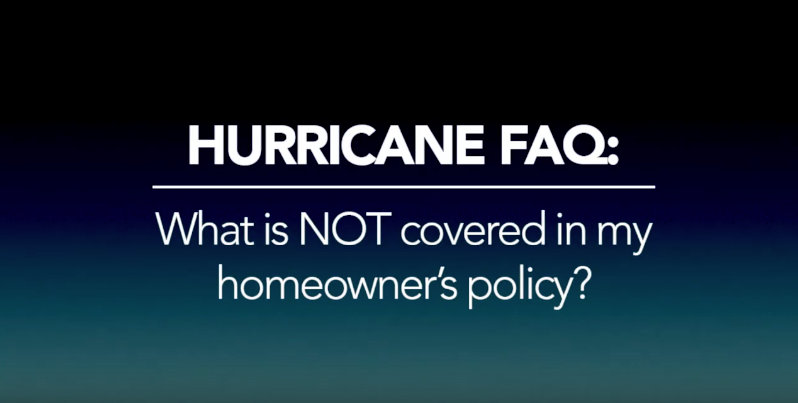 We've gotten a lot of questions about hurricanes, and a very common one is: in regards to hurricanes, what is not covered in my homeowner's policy? So we thought we'd talk a bit about that in this post and video.
The first thing to know, is that in coastal North Carolina and many coastal towns, wind and hail is excluded from your homeowners policy. So the first thing is for there to be coverage for a hurricane you would have to have that wind and hail policy as well as a homeowner's policy.
The next thing is that flood is almost always excluded from a standard homeowners policy, so there's no coverage for flood and rising water if you've had those damages unless you have a separate flood insurance policy and I think that's one of the biggest things that people have run into as an issue.
There are some optional coverages that are on homeowners policies that you may or may not have depending on what you selected, or what your agent selected at the time the policy was purchased. Those are things like water/sewer backup, and refrigerated personal property, which would be the things that are in your freezer or refrigerator that are lost due to the power going out post-hurricane.
You'll also want to look into wind-driven rain, as that may or may not be covered on your home insurance or your wind and hail policy. It depends on the carrier.
And lastly – expenses due to evacuation may or may not be covered – depending on the carrier, and you really need to call your agent to find out the answers to that.
This list is not comprehensive, so always talk to your agent so that you are not caught off-guard. They will be able to help you with your personal situation
For more information on being better prepared for hurricanes, contact us at 910-762-8551.