Community is a big part of who we are at Wells Insurance, and we take great pride in being able to give back to our neighbors and friends who give us so much. The Wells Insurance team makes it a priority to ensure that we help others throughout the entire year. We choose charities to support in the office each month through our Donations for Denim initiative, and more importantly, the Wells family provides every employee 24 hours of paid volunteer time each year so that we may individually help the community in whichever way we choose, outside of the workplace. It's why we say that giving back is in our DNA.
This year, the Wells Insurance team came together with many smaller initiatives to make a big impact in the community during the holiday season. Here's just a little bit of what our team was able to accomplish:
Toys for Tots
Each of our offices are a drop-off location for Toys for Tots to collect toys for children in the community whose parents can't afford to buy them a gift for Christmas. It's always fun to pick up something to help make a less-fortunate child's holiday brighter.

Truckload of Warmth
We teamed up with two of our clients: Two Men and a Truck and Good Shepard House, to collect new or gently used coats, scarves, gloves, blankets, socks, hats, and more to provide to local shelters for the winter months.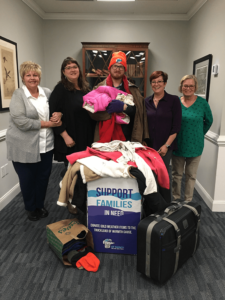 Thanksgiving Food Drive
While we do several food drives throughout the year, we also held a special financial drive just for Thanksgiving. Our staff came together to raise funds to help the Food Bank get the items they needed to provide meals to our region and we were able to collect $595 for the Food Bank of Central and Eastern North Carolina!

Branch Spotlight: Oleander Drive
Amanda Carlton and the Oleander Drive branch of Wells Insurance came together to collect, donate and deliver blankets to a local nursing home!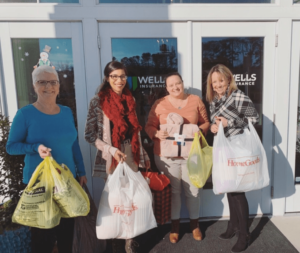 Employee Spotlight: Judi Brown
Judi is an account manager with Wells Insurance who goes above and beyond both in the office and in the community! Every year, Judi works with the Elks Lodge and Lowes Foods to deliver bags of Christmas food to low income families or individuals in the community. This year, Judi and her team were able to deliver 160 bags of food! In case that wasn't enough, Judi also volunteered at a Christmas dance party for adults with physical or mental disabilities – another annual volunteering tradition of hers.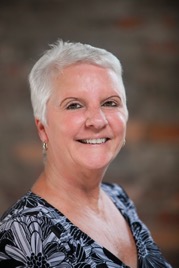 Employee Spotlight: Jennifer Flannery
Along with her husband and son, Jennifer volunteers at Good Shepherd Center every Saturday – a local homeless shelter here in Wilmington. She and her family collect food from local grocery stores, restaurants, and bakeries to be distributed through the Soup Kitchen and 16 local food assistance programs. On the weekend before Christmas, they were able to pack more than 1,500 pounds of food!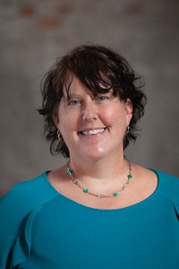 Employee Spotlight: Brooke Bowman
Brooke and her church travel to Ukraine each year to work with widows and orphans. These are some of the photos from her trip – the first is taken with one of the widows that she worked with, and the other is of a day camp that they hosted in partnership with a local mission.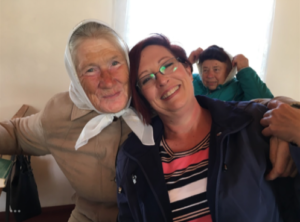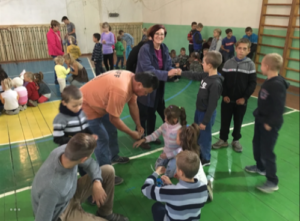 Thank you so much to our team who continues to go above and beyond both at work and in the community. You are what makes Wells Insurance great!