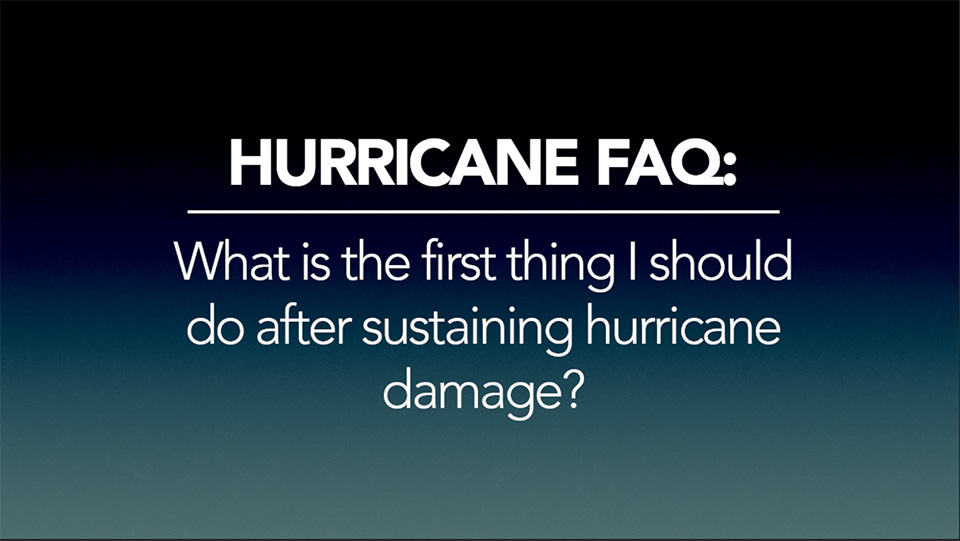 We've gotten a lot of questions about hurricanes, and a very common one is: What is the first thing I should do if I have hurricane damage to my home? So we thought we'd talk a bit about that in this post and video.
The first thing you need to do is stay safe. It can be very dangerous trying to get back to your property with trees down, flooding, sinkholes, moving water, downed powerlines, etc.  So that's our first bit of advice, is to always put safety first.
Once you arrive home if you have evacuated, and you see that you have sustained damage to your home, go ahead and report that damage directly to your carrier as soon as possible. The reason to remember as far as why, is that there could be thousands of claims coming in due to the disaster, so the sooner you get your claim in, the higher you are in the response queue. But always refer back to staying safe first.
The next step is to take a lot of photos of how everything is, exactly when you find it. You will need this to include as part of your reporting process.
And then the next thing is to know that that it is your responsibility in the contract with your carrier to "mitigate further damage". So that means that you need to do as the homeowner or property owner- what you can to minimize any further damage from happening. So make sure you take appropriate steps there. Whether it be throwing a tarp on a hole in the roof, or cleaning up drywall that's falling down so that it's safe to walk around in the house, or working to eliminate mold from growing.
Anything that you gather up during this process, be sure to put somewhere and keep it safe so that the adjuster can can see it all when they finally do get out to inspect your home.
And lastly, keep all your receipts for anything that you do during the hurricane and recovery time period. It may be something that's reimbursable.
For more information on being better prepared for hurricanes, contact us at 910-762-8551.