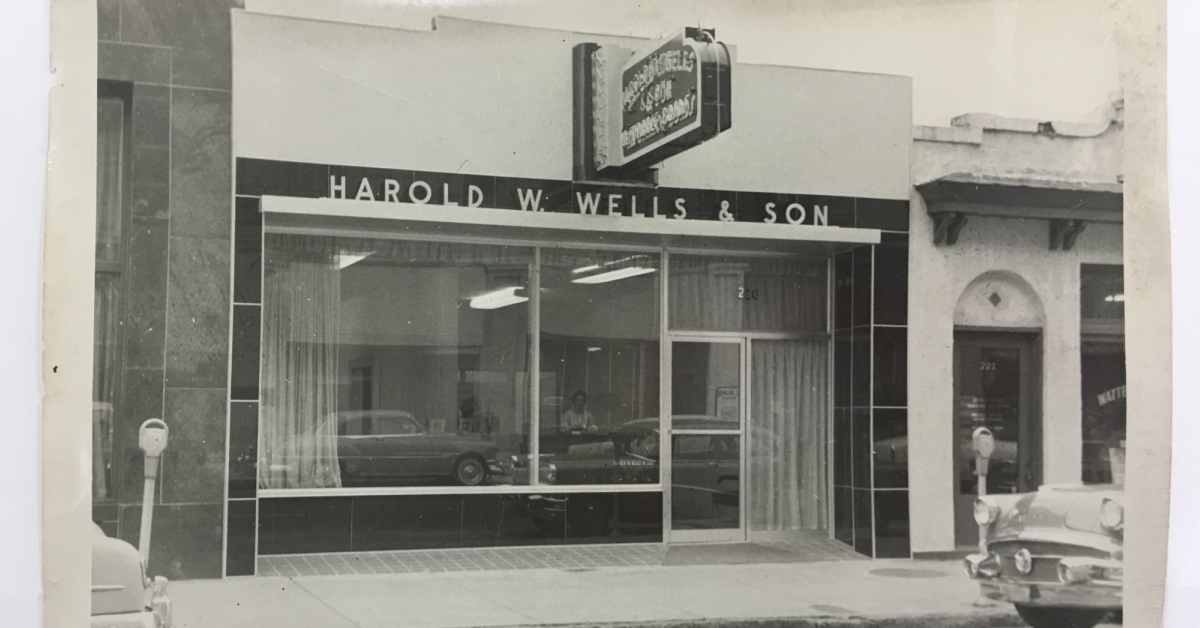 Humble Beginnings
Founded in 1920 as Harold W. Wells & Son, Inc., Wells Insurance has been powering the Carolina's peace of mind for nearly a century, and is still owned and operated by the Wells family today. Harold W. Wells, Sr. opened our insurance agency in a small office on Princess Street in Downtown Wilmington, not too far from where our current office is today. Harold Wells Sr. understood that insurance was a business of relationships, and started selling policies with a handshake to those who entered his Princess Street office.
Harold Wells Sr. was joined by his son, Harold Wells Jr., in the 1930's. Harold Wells Jr. worked with his father until he was joined by his two sons, Harold III and Calvin, in the late 1960's. Under the leadership of Calvin and Harold III, Wells Insurance moved to its current location at Third and Market in 1970. With just seven employees at the company, the move brought along with it the opportunity for growth.
Steady Expansion Fueled by Honest Work
Calvin and Harold III expanded the business in the 1970's and began marketing employee benefits with a handful of brokers working double-duty as commercial property/casualty producers while also providing health insurance and other employee benefits coverage. The company continued to expand with Harold III at the helm, and in 1998 grew from a local agency to a regional agency with the opening of our Southport location.
Our company expanded again in 2003, when we outgrew our office at Third and Market and moved into the historic building next door at Five North Third Street, where our Personal Insurance Division currently operates. We grew again in 2009, with the opening of our first South Carolina office in Myrtle Beach.
Harold Wells III led the company throughout these years of steady growth from the 1960's until 2012, and currently serves as the company's Chairman. His two sons, fourth generation Harold Wells IV (Hal) and Steve Wells, took over as CEO and COO respectively. The following year, we expanded again and opened our fourth location in Wrightsville Beach to accommodate the addition of Wells Marine.
Looking Ahead and Giving Back
As a fourth-generation family business, we understand the importance of community and do our best to give back through regular food bank donations, blood-drives, and paid volunteer time for our staff. We choose to do these things not only to make our towns stronger, healthier, and happier, but to give back to the communities that have given so much to us.
Wells Insurance started as a small, local insurance agency, but has grown to a robust, 75-employee regional agency offering insurance coverage to clients in 48 states. We were able to get to where we're at by following the plan put in motion by Harold Wells Sr., and by prioritizing our clients' total satisfaction above all else. By remaining an independent brokerage, we're able to find multiple options for our clients and walk them through the decision process with integrity, passion, and expertise. That's the Wells Way.
1 COMMENTS