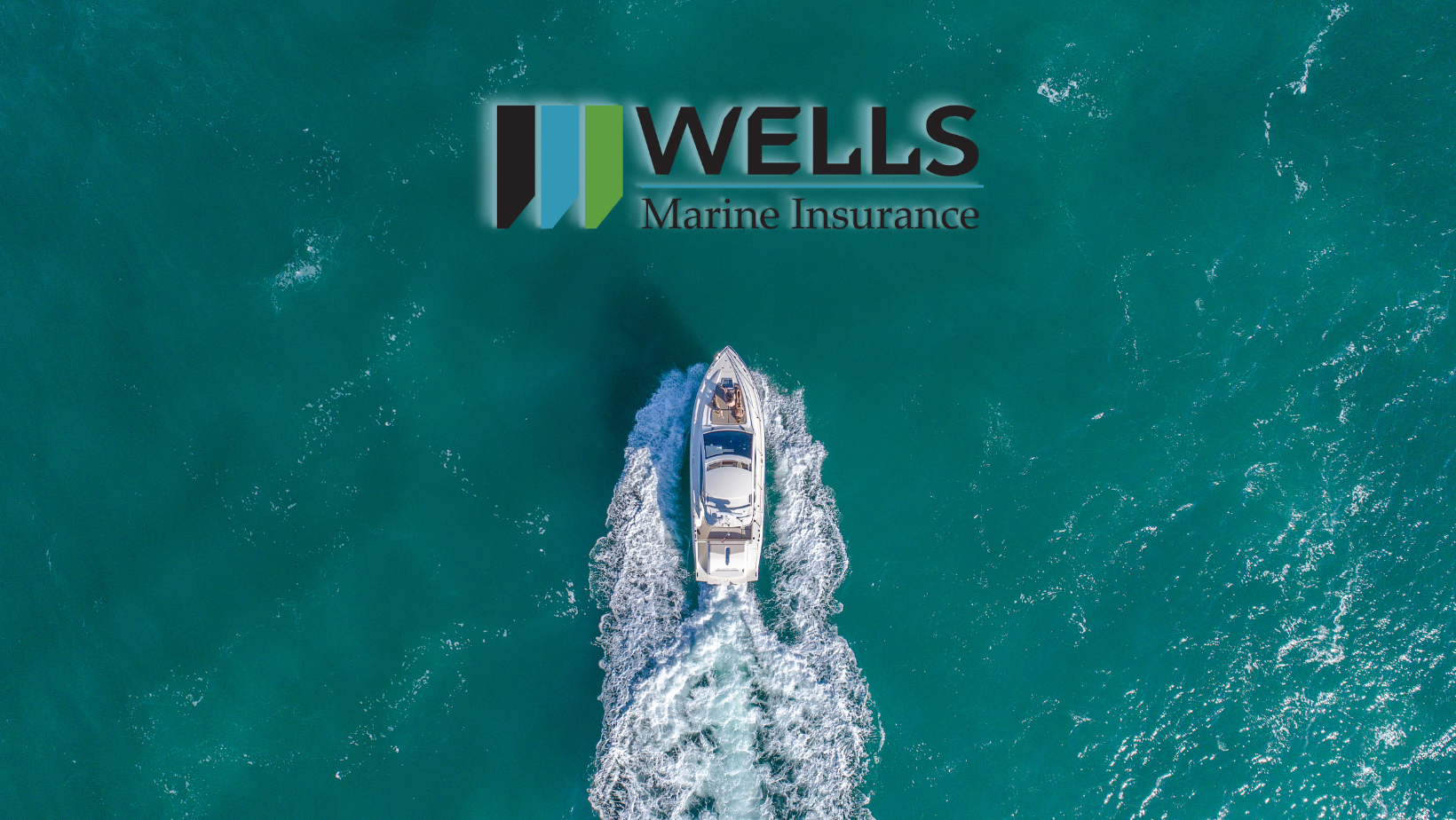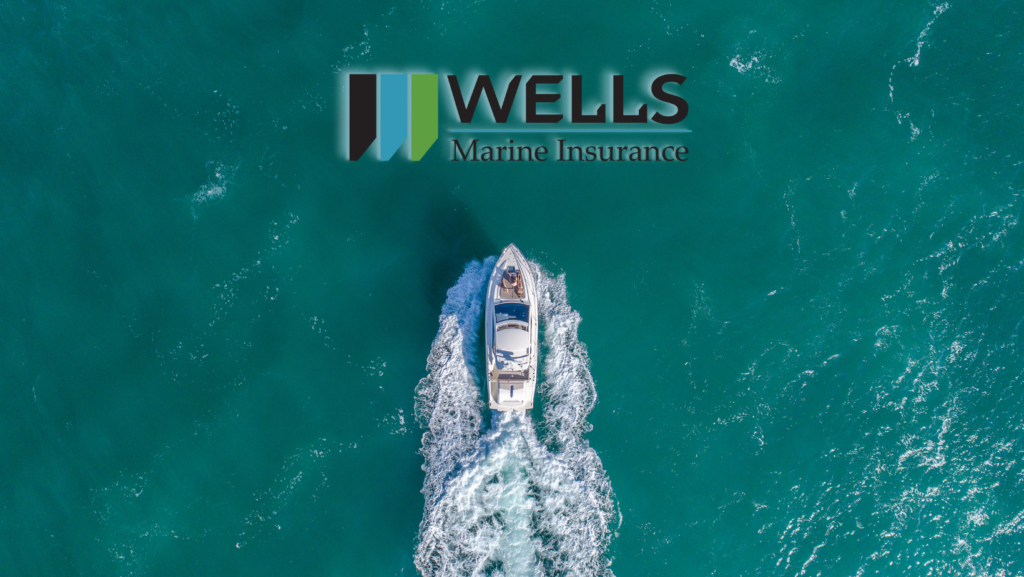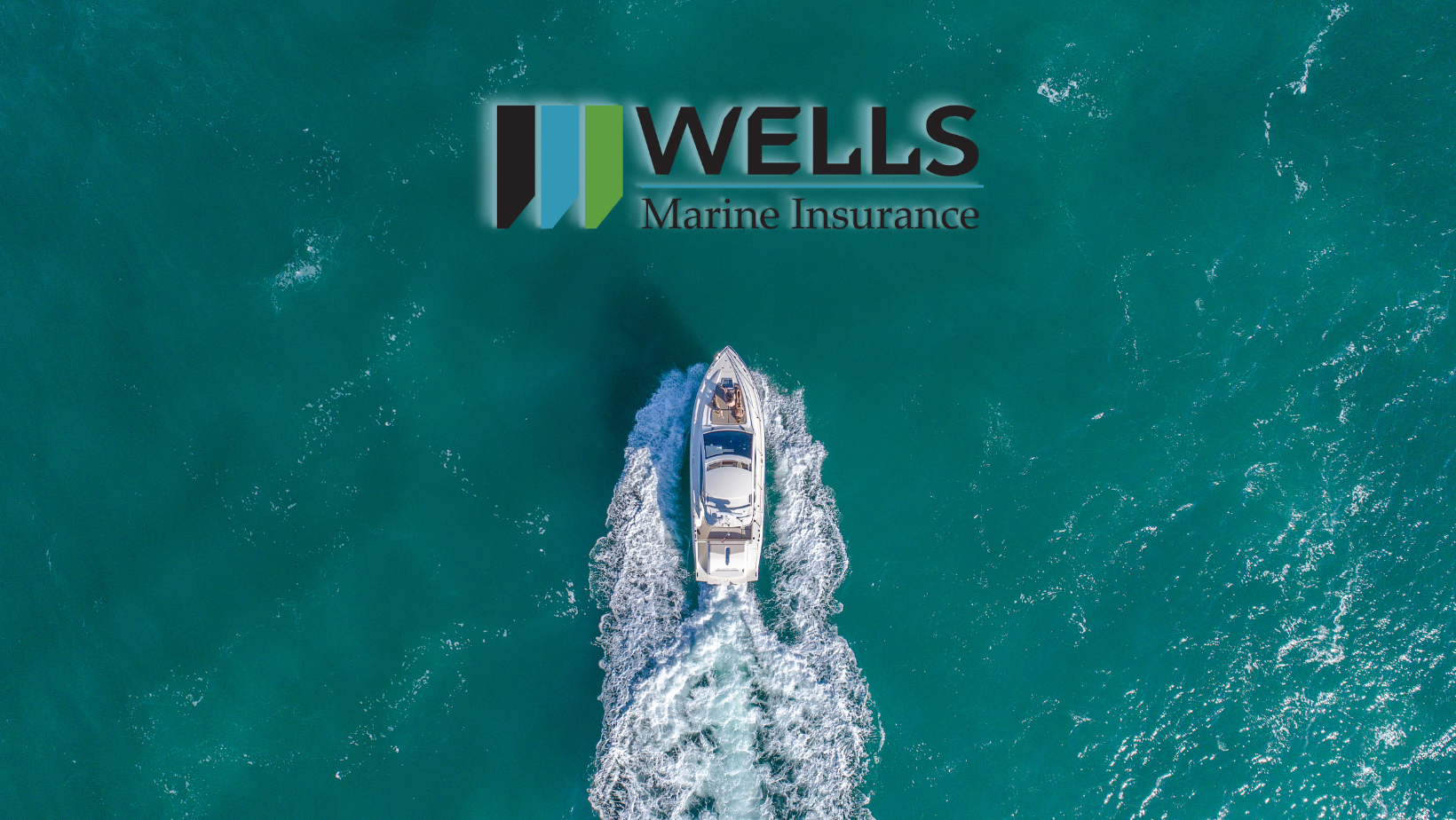 Summer is in full swing and we would like to highlight and address a very important and often overlooked topic: Recreational boating safety awareness. We will discuss everything from boat accident statistics to tips for preparing your boat and passengers for a fun accident-free day on the water. Preparation and an understanding of how quickly things can go wrong can go a long way to avoiding dangerous situations. In 2020, in the United States, 767 people died and 3,191 people were injured due to boating accidents. Total damage caused by boating accidents reached about $55 million. The primary contributing factor in the 7,248 boats involved in these accidents was "Operator Inattention" followed very closely by "Operator inexperience". *
Recreational Boat Safety Awareness
Recreational boating is a super fun way to spend time on the water and avoid crowded beaches. Whether you're engaged in water sports, fishing, or just cruising, boats demand an incredible amount of responsibility and respect. It is unfortunately common to witness all sorts of carnage each summer when the masses flock back to the rivers, lakes, and oceans. For the seasoned watermen and boat captains, it is glaringly obvious that your average weekend and summertime boater brought everything aboard except their common sense. The level to which people all too often disrespect and neglect the power and dangers of a boat, and the waterways in which they travel, can be terrifying to witness, let alone experience.
Maybe people feel a false sense of security because they are on the water, but don't be fooled. Riding in a boat is the equivalent of being in a car with a few differences that can make it even more dangerous:
There are no lines, medians, or speed limits (with the exception of no wake zones)
Instead of tires, there's at least one razor sharp spinning 3/4 bladed propeller spinning underwater
Instead of a flat road, there is an incalculable amount of unbreathable liquid with potentially zero clarity, unknown depths, and is constantly moving
The drivers are people of all ages who've most likely never taken a "driver's" (Boater's) education course and could very likely be under the influence of alcohol
None of the vehicles have brakes
If the driver goes overboard w/o an engine cutoff switch, the boat keeps going til it runs out of gas
Cars don't sink (on the highway)
This begs the question, "Do people show the same respect for boats as they do automobiles and do they approach boating with the same amount of caution?" Boat safety awareness on a typical summer weekend afternoon would prove to be a resounding "no" from the statistics we've seen. In 2020:
69% of all accidents occur between 12:31pm and 8:30pm
56% of all accidents and 50% of all deaths occur between June and August
55% of all accidents happen on Saturdays and Sundays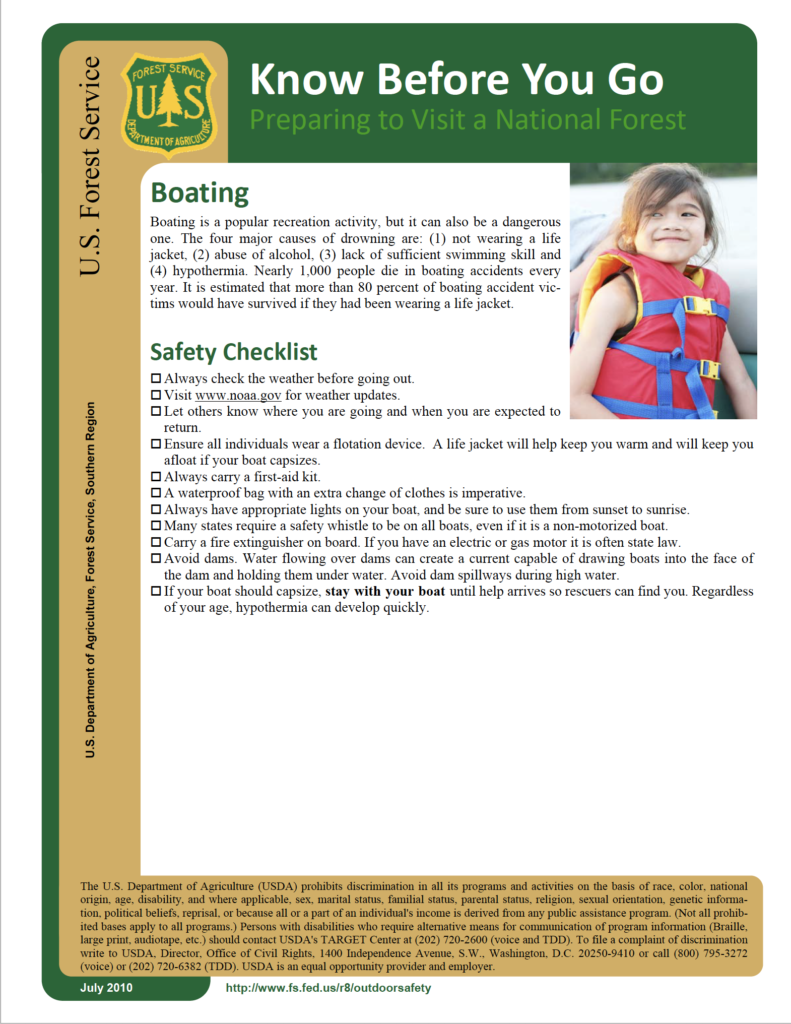 Safety Checklist
Things can go wrong very fast for a variety of reasons. So having a safety checklist can prevent a lot of situations going from bad to worse. Weather and exposure being major factors in boat safety awareness as conditions can change in seconds.  Download this checklist here.
Always check and monitor weather before going out and while out on the water
Visit noaa.gov for weather updates
Let others know where you're going and when you'll be back
Ensure everyone on board has a USCG approved flotation device
Always carry a first-aid kit
A waterproof bag with dry clothes is imperative
Double check running lights on your boat and always use them sunset to sunrise
Carry a distress kit, including whistle, flare, and flasher (whistle for non-motorized boats)
Always carry an up-to-date fire extinguisher
As of 2021, an engine cut-off switch is required
Boat Accident Drownings
According to the USDA and US Forest Service, nearly 1,000 people die in boating accidents every year in the United States. 80% of victims would have survived if they had been wearing a life jacket.
Four major causes of drowning:
Not wearing a life jacket
Abuse of alcohol
Lack of swimming skills (even skilled swimmers can drown in strong currents/if knocked unconscious)
Hypothermia
The Right Kind of Life Jacket
Not all life jackets are created equally when it comes to boat safety awareness. Children are always required to wear a life jacket on board a boat. Make sure they are sized appropriately, and all buckles are fastened or else they may as well not be wearing anything. Any boat over 16 feet long must have a Type I, II, III, or V PFD (Personal Flotation Device) and one Type IV throwable device such as a cushion or ring.
Type I. Off-shore life jackets. Provide the most buoyancy and are effective in all waters including open, rough, remote waters where rescue may be delayed. Designed to roll users into a face-up position.
Type II. Near-shore vests. Used for calm inland waters where there is a good chance of a quick rescue.
Flotation aids. Good for calm inland waters.
Type III. Throwable. Designed to be tossed to a someone who has fallen overboard and can be grasped by the victim until rescued.
Type IV. Special use devices. May be carried if used in accordance with approved conditions designated on the label.
Type V. Includes inflatable vest, deck suits, work vests, SUP and board sailing PFD's.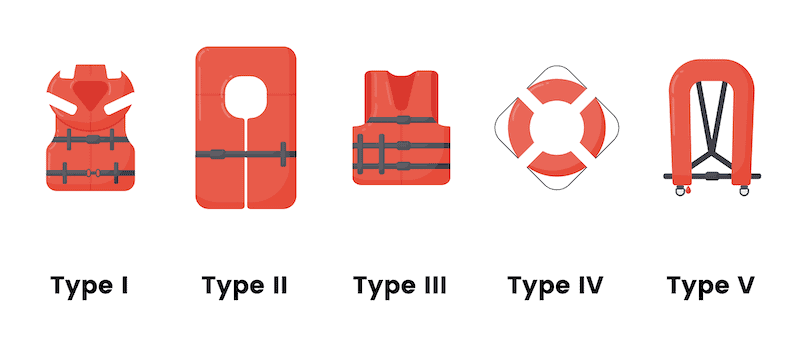 Alcohol and Boats Don't Mix
Alcohol is the leading contributor of death due to a boating accident. If you are the "captain" of your vessel, then your passengers are your responsibility and your precious cargo. Boat safety awareness means that it is vital to stay sharp when on the water, especially on busy days. After all, you wouldn't booze it up, and throw your family in the car, would you? Even if you think you're in control, there are plenty of boaters out there who aren't. When it comes to the safety of you and your passengers, you need to constantly be aware of your surroundings, in order to take evasive action in the case of an emergency. Simply put, don't drink while operating a vessel.
Situational Awareness Prevents Boating Accidents
The top five primary contributing factors to boating accidents:
Operator inattention – "failure on the part of the operator to pay attention to the vessel, its occupants or the environment in which the vessel is operating." -USCG
Operator inexperience
Improper lookout – This includes watching/listening for hazards as your moving and while on anchor maintaining a clear view of your surrounding and/or assigning a passenger to assist
Excessive speed – A safe speed is one that allows you to take proper and effective action to avoid a collision and will allow you to stop your boat within a safe distance in relation to:
Hazards and obstructions.
Your distance from shore and other boat traffic.
The boat's draft in relation to the depth of the water.
The dock (when returning to the dock).
A person being towed on a tube, wakeboard, etc.
The weather and water conditions (such as fog, rain and rough water).
The presence of background lights at night.
The maneuverability of your boat.
5. Navigation rules violation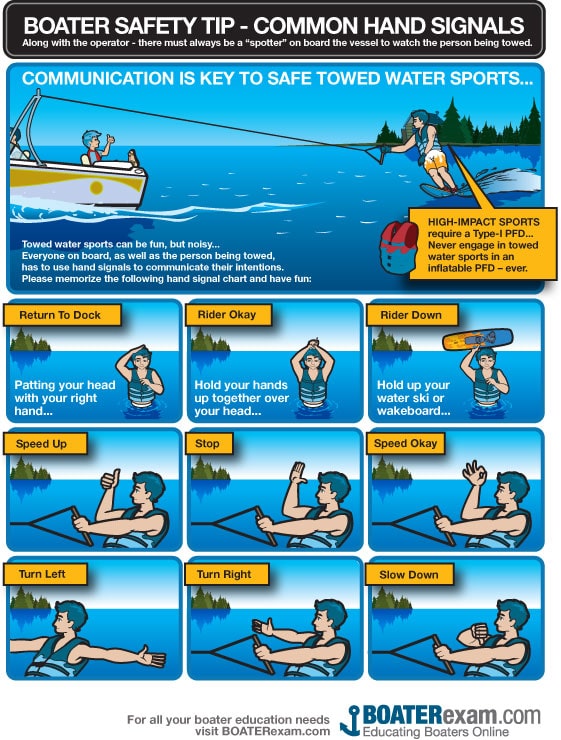 Watersports and Kids
If you've ever been on the water in the summer, you've seen someone getting pulled behind a boat. Whether it is a bunch of kids on a tube/raft, a wake boarder, or someone on water skis, there are many ways to have fun at the end of a tow rope. These may seem like common sense, but here are a few safety rules that we've all unfortunately seen broken time and again:
All participants should always wear a Type-I life jacket (never an inflatable PFD)
Always have a spotter in the boat
Be sure everyone on board is familiar with hand signals
Keep tow rope clear of engine/prop and be certain it's not wrapped around anyone in/out of the boat
Always keep engine in neutral when participants are getting in/out of the boat or are anywhere close
Participants should wait for boat and propeller to stop before approaching
Passengers on boat should never hang off the bow
Never tow people in a high traffic area
Wear a helmet when wake boarding or waterskiing
Only engage in towing activities during daylight hours
Boating Safety - National Safety Council
Recreational Boating: Stay Safe on the Water ; Life Jackets Are Essential · Make sure the jacket is properly fastened ; Get Educated, Reduce Risks · Be familiar ...
Boating Safety: BoatUS Foundation
Our goal is to keep our waterways safe and enjoyable. The BoatUS Foundation for Boating Safety and Clean Water is an innovative leader promoting safe, ...
National Safe Boating Council
education, training and outreach programs; plans and develops national
boating
safety
awareness
projects and campaigns; and serves as a representative of the NSBC
Situation awareness
Situational
awareness
or situation
awareness
(SA) is the perception of environmental elements and events with respect to time or space, the comprehension