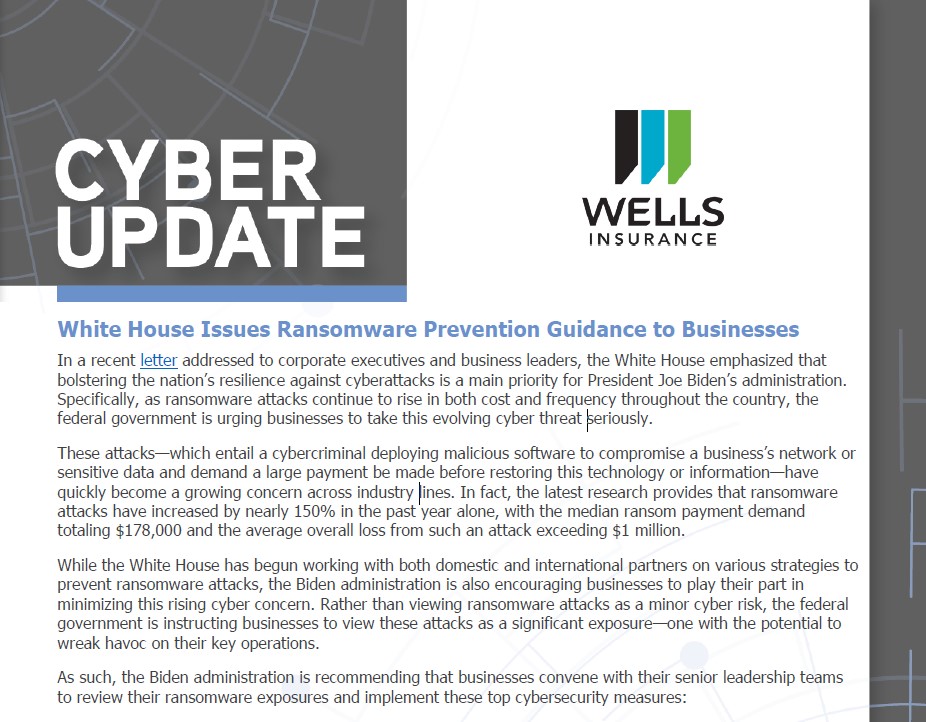 ---
In a recent letter addressed to corporate executives and business leaders, the White House emphasized that bolstering the nation's resilience against cyberattacks is a main priority for President Joe Biden's administration. Read the article below to learn more about suggested cybersecurity measures. 
---
The Biden administration is recommending that businesses convene with their senior leadership teams to review their ransomware exposures and implement these top cybersecurity measures:
Utilize the federal government's best practices. Businesses should be sure to incorporate the best practices outlined in the Biden administration's Executive Order on Improving the Nation's Cybersecurity.
Conduct frequent data backups. In addition to the federal government's best practices, businesses should also prioritize securely backing up all sensitive data, images and other important files on a regular basis.
Maintain updated security software. To help safeguard workplace technology from ransomware threats, businesses should equip their systems and devices with adequate security software—such as antivirus programs, firmware protections and firewalls.
Ensure an effective incident response plan. All businesses should have cyber incident response plans in place. These plans outline proper response protocols and offer steps for minimizing potential damages during cyberattacks.
Review workplace cybersecurity protocols. Apart from testing their response plans, businesses should also regularly assess whether their existing workplace cybersecurity policies, procedures and software are sufficient in protecting against current risks—such as ransomware threats.
Keep critical networks separated. In order to keep ransomware attacks from fully disrupting their operations, businesses should attempt to segment their various workplace networks (e.g., sales, production and corporate) from one another rather than having a unified network.
---
Cyber Update - White House Issues Ransomware Prevention Guidance to Businesses

---
Content Copyright Zywave 2021